5 Types of Kitchen Faucets and Which is Best for You
Planning your kitchen renovation is exciting. There are so many details to plan from countertops to cabinetry, but some of the most difficult choices can seem like some of the smallest items in the room. Picking the right kitchen faucet is essential to improving the flow of your kitchen. With so many options available, it can be hard to know where to start.
The best kitchen faucet is entirely subjective. Certain styles work better in smaller or larger kitchens, with deeper or shallower sink basins. It can also depend on how you plan to use your kitchen; are you an avid cook who needs an easy way to fill pots with water? Do you have a large family with a lot of dishes to clean and want to streamline the process?
We've pulled together five of the most popular types of kitchen faucet and all the reasons you should choose it for your kitchen remodel— or the reasons it might not be the perfect faucet for you!
1. Pull-Down Faucet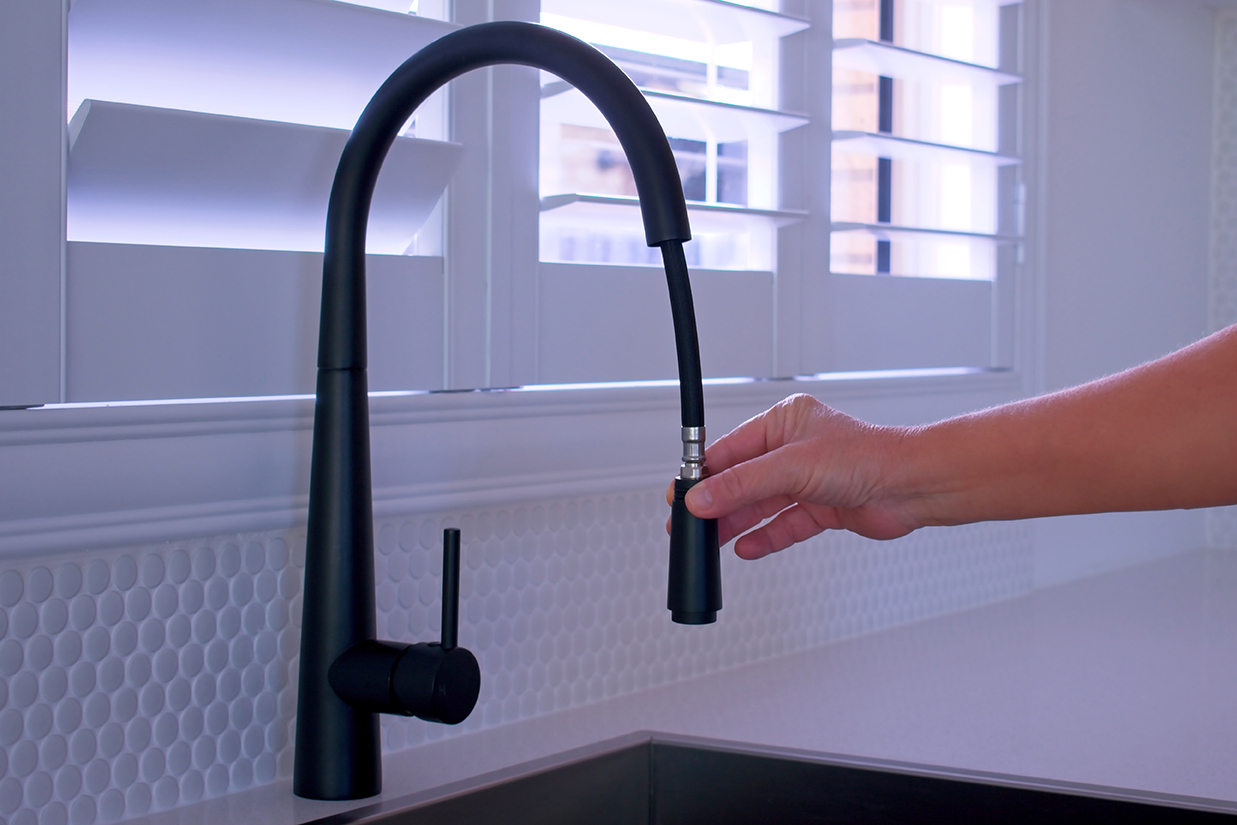 The pull-down faucet has proven to be one of the most popular types of faucet in recent kitchen renovations. It's distinguished from other faucets with a goose-neck spout and a head that can be pulled down as an extension.
Pros: A lot of love is given to pull-down faucets for good reason! With a long hose and extendable spout, it's the perfect solution for accessing small corners and difficult spots when cleaning dishes and the sink. This faucet is also noted for preventing excessive splashing and pairs well with large, deep sink basins. Due in part to its popularity, the pull-down faucet also has the most impressive design options compared to other types of faucets.
Cons: While this might sound like the perfect faucet, there are some drawbacks. The hose can only be stretched down, limiting the distance and range of motion of the head. Some also report that it's inconvenient to navigate around in a hollow sink.
2. Pull-Out Faucet
Very similar to the pull-down faucet, a pull-out faucet is also characterized by a detachable head and hose. Unlike its pull-down counterpart, the pull-out faucet can be pulled in just about any direction with the hose spraying out toward the user, not down into the sink.
Pros: This type of faucet is perfect for a kitchen with limited sink space, especially those that struggle to fill large pots up in the sink. Instead of wrestling the pot into a small sink, the flexible pull-out faucet allows it to be filled on the countertop. Many styles of this faucet also include buttons on the detachable handle to control the strength of flow and the temperature of the water.
Cons: Most notable among the downsides of the pull-out faucet is the fact that splashing is all but inevitable, especially with a small sink basin. Due to the outward facing sprayer, it's very easy to get unwanted water all over the kitchen and yourself.
3. Single-Handle Faucet
Single-handle faucets are the most common type of faucet found in homes and public places alike. The handle in question has seen many different designs over the years, most notably as a ball, a ceramic disk, or a cartridge. This is a simple, straightforward type of faucet that's stuck around for so long for good reason.
Pros: If you're looking for a reliable faucet without too many bells and whistles, this is the choice for you. It's relatively easy to install, very reliable, and if you do manage to break it, it doesn't typically cost much to repair. The beauty of this faucet is in its simplicity; it's the easiest of any type of faucet to navigate with no learning curve required.
Cons: Simplicity does have its drawbacks. Not usually boasting the latest in plumbing technology, a single-handle faucet tends to take longer to change the temperature of the water. Many households also opt for a separate sprayer hose for their sinks in addition to this faucet, which can complicate plumbing.
4. Double-Handle Faucet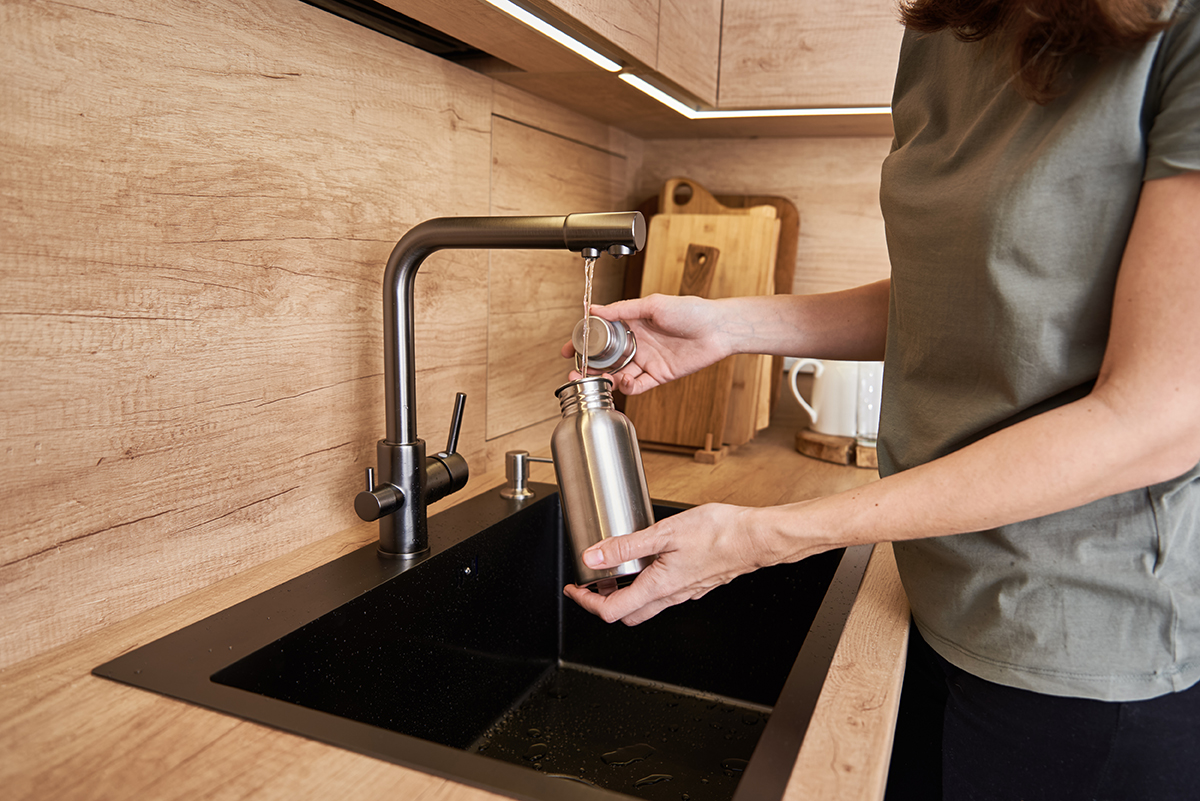 As another type of faucet with many years of history in use, the double-handle faucet is almost as common and popular as its single-handle counterpart. The dual handles work together as separate connections for hot and hold water, improving on the single-handle design for quicker temperature changes.
Pros: In addition to greater agility when it comes to adjusting the heat or coldness of the water, a double-handle faucet also has a built-in contingency plan for if one handle breaks. The faucet will still function and can be used while the broken handle is waiting for repairs. Also like the single-handle faucet, a double-handle faucet is very simple to install.
Cons: Despite being relatively durable, this faucet isn't completely indestructible. It's often rather expensive to repair a broken double-handle faucet; there's more parts that go into the faucet itself, some of which are quite pricey if they need to be replaced.
5. Hands-Free or Motion-Detect Faucet
While the last two types of faucets have been well-loved for decades, the hands-free or motion-detect faucet is a leading-edge innovation that's the up and coming star in many modern kitchens. With no handles at all, the faucet is equipped with a sensor in the tap's body to identify movements to trigger the flow of water.
Pros: The obvious benefit of this high-tech faucet is in the name; while preparing a meal or cleaning up a mess, you're still able to turn on the water while your hands are covered in grease or grime. This feature is a lifesaver for many busy households and is a lifesaver in the cleanup process. For a new kitchen remodel, the hands-free faucet looks sleek and clean, not to mention very up to date!
Cons: Because this type of faucet is the newest innovation in kitchen plumbing technology, it's also the most expensive. Plus, if something were to break, the system is much more complex than other types of faucets and is quite difficult to repair. These are some significant downsides for frugal homeowners, though not a dealbreaker for everyone.
Ready for an upgrade to your kitchen? Contact Kitchens By Oaks at 585.349.8100 to schedule your free design consultation today!