Interesting Kitchen Trends for 2021
This year, designers are predicting that homeowners will bring some pops of color into their kitchen décor — even if you have a rustic farmhouse kitchen! Whether you choose to bring more natural elements into your kitchen design or add pops of color, our list of trends will surely give you some inspiration.
Add Color to Your Kitchen
Paint your kitchen island, add a colorful backsplash, or liven up your space with painted cupboards. These are just a few ways homeowners are adding pops of color to kitchens this year.
Trendy Black
Do you prefer basic black? Keep your kitchen from being too dark with open shelving and white walls. Open shelving is very on-trend right now, but keep in mind that you'll have to keep your shelves orderly and dusted. Put decorative pieces on higher shelves and the dishes you use regularly within reach on lower ones.
Marble Countertops
Marble countertops look gorgeous in every kitchen. This natural stone is very durable and heat-resistant. Marble, however, is porous, so it should be sealed to prevent staining. If you're prone to spills, you may want to opt for engineered quartz. With it, you get the look of marble with a stain-resistant finish.
Paint Your Ceiling
Add a pop of color by painting, wallpapering, or adding wood paneling to your kitchen ceiling. This is a fun way to add pizzazz to the room. In this kitchen, they've added the extra surprise of a color-coordinated, patterned backsplash.
Try Wallpaper
Wallpaper in the kitchen? Yes! Try one of the new peel-and-stick wallpapers from Tempaper. They are simple to use and can be easily peeled off and replaced with another pattern as trends change. They even come in patterns that mimic tile and wood.
Natural Wood
Adding natural wood into your kitchen design, through an island or flooring, warms up the look of the entire room. This is especially effective in white kitchens. Hardwoods like oak, maple, or cherry are the most durable for your high-traffic room.
Accessorize in Color
Feeling too nervous to commit to color in your white kitchen? Use hints of color through brightly colored kitchen utensils, tableware, and accessories. These work especially well with open shelving.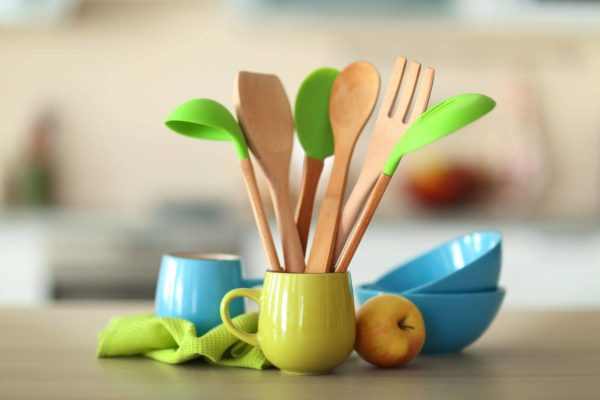 Colorful Appliances
Yet another way to colorize your kitchen is to use colorful appliances, such as those from Big Chill. Their Retro, Pro, and Classic appliance lines come in dozens of colors.
Statement Floor Tiles
Add a design impact with a patterned floor. Whether you choose something complicated, or a simple checkerboard as shown below, it will spice things up in the kitchen!
Whatever trends you decide to embrace for your kitchen this year, we're here for it! Call Kitchens by Oaks
at 585.349.8100 to schedule a consultation with one of our talented designers today!