Kitchen Remodeling


in Rochester, NY
At Kitchens by Countryside, we strive to help our customers attain the kitchens and bathrooms of their dreams. We offer professional, seamless design and installation processes for beautiful results in homes throughout Rochester, NY, and the surrounding areas. Visit our showroom in Spencerport to see what we can do for your home.
Ready to do a full kitchen remodel? Get started with a Free Design Consultation with one of our expert designers. Invest in your home with 100% confidence.
Find out what makes Kitchens by Countryside different — our team of talented designers, ready to help you realize your kitchen and bath dreams.
Connect with us on
Facebook
and
Instagram
. And be sure to subscribe to our
newsletter
for exclusive offers and special promotions not found anywhere else.
Plan a visit to our brand new, gorgeous showroom in Spencerport. Meet our kitchen and bath designers in person, and take a look at samples of cabinets, countertops, flooring, and more. You'll find lots of new ideas and inspiration!
Free Design Consultation!
Why wait when you can start your kitchen or bath remodeling job today? Stop into our showroom and speak to a designer, or contact us and begin remodeling process right over the phone!
Flexible Financing
We offer customizable financing options to fit your budgetary needs. Just ask us what financing plans we have available for you.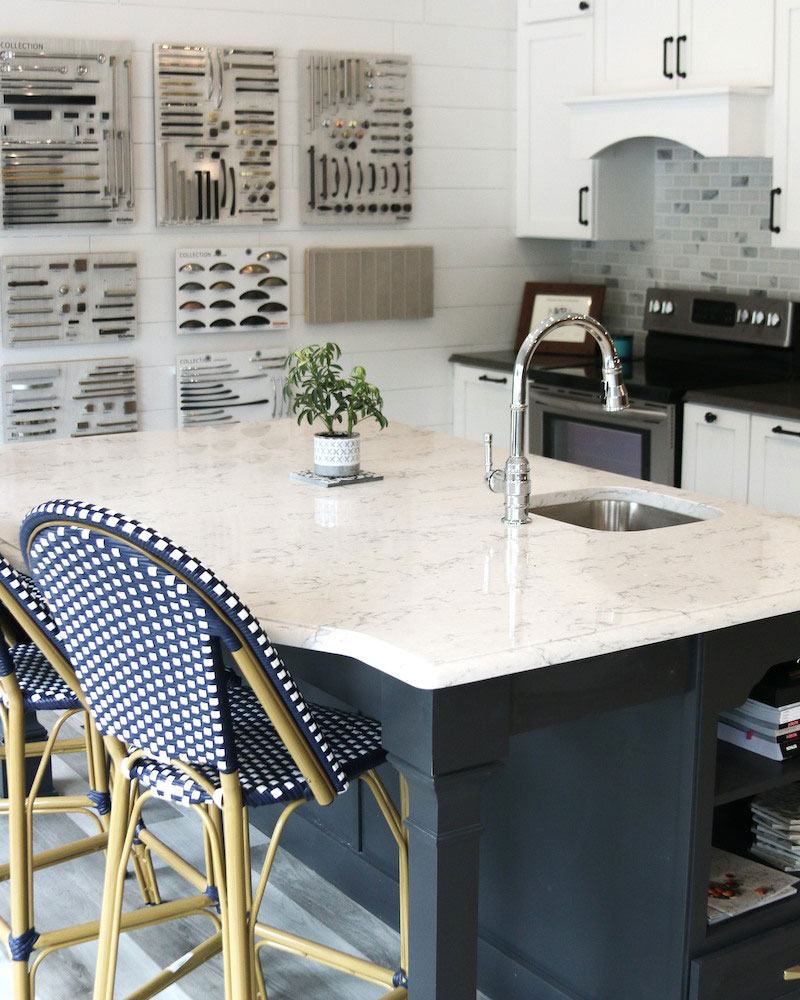 Kind Words from Our Clients
"Sierra and the Countryside team did an amazing job remodeling my father-in-law's bathroom. It was a tough little space, complete with a chimney (from a non-working fireplace). Sierra completely reconfigured the space and made it BIGGER and more FUNCTIONAL than anyone imagined! The installers worked quickly, did a great job, and were flexible with my FIL's time constraints. He is very pleased with how the bathroom came out as well… he shows it off to anyone that comes over! I will definitely be using them for any future bath/kitchen remodels!"
– Daphne N. –
"You don't promise what you can't deliver, and everything you do promise is done well."
– Lin P. –
"Thank you to Heather for your knowledge and expertise in guiding us. And thank you to the install crew. They were fast, knowledgeable and very courteous. I have never met a more polite group of gentlemen! Beautiful job!"
– Gilbert & Debra C. –
"Tim and I finally took the big plunge and updated our 1950's kitchen. We decided on Kitchens by Countryside and have been very happy with the results. Diana was able to design and show us our kitchen in 3D to help us visualize what we needed and also make it all fit into a tight space. We had a load bearing wall removed and we can't believe the difference. Our contractor, Joshua, kept on top of all the trades and was always responsive to any concerns. Remodeling a kitchen is a huge expense — they worked with us to keep our costs down and still look upscale. I am only sorry we waited so long to do this."
– Laurie M. –

helen gordon
20:34 07 Apr 21
The folks at Countryside are GREAT to work with. Unfortunately the Kraftmaid bathroom vanity wood I chose in Fall 2020 was NOT of good quality. Stay away from Kraftmaid Translucent Monument Gray Rustic Maple!! The sample looked so unique and beautiful. The vanity pieces that came were mostly awful with gouges and cracks. Zero quality control. Embarrassing to show people. Fortunately Project Manager Josh Kay was 100% supportive and after ordering a few new pieces I am very satisfied. There were a couple other glitches that Josh resolved. If you want great customer service, I highly recommend Countryside because a good Project Manager like Josh is worth his weight in gold!!

Joanne Newbauer
16:07 01 Apr 21
We absolutely love Sierra & Kitchens by Countryside!We built a new home last year. Sierra helped us select kitchen island design, cabinets, countertops, backsplash, hardwoods, fireplace stone, and tile all with an incredible amount of design guidance.Sierra has all of the best qualities of someone you would want to work with, extremely professional but you feel as if you have known her for a long time and makes the experience enjoyable.Other design store experiences do not even come close to what Kitchens by Countryside provides from start to completion.

Jill Allen
20:56 24 Mar 21
Earlier today our partial kitchen remodel was completed. We had new kitchen countertop, sink, faucet and tile backsplash done by Kitchens By Countryside.When we first met with Diana, one of their designers we let her know we were on a budget and what we were hoping we could do to improve our kitchen and WOW did she deliver!! With her guidance and expertise in the design aspect our kitchen looks amazing and we could not be happier with the way it turned out.. I could not write this review without also saying thank you to Josh who coordinated with the contractors and kept us in the loop as to dates and times the work would be done. Everything was completed on the date and time as promised.There is still more work to be done in our kitchen and as soon as we are ready we will be reaching out to them again.If you are looking for a business to do a kitchen remodel, we would highly recommend Kitchens By Countryside.Thank you for giving us exactly what we wanted. We love it!!J & J Allen

Kitchens by Countryside did a great job. We are extremely pleased with the final product. The design by Heather was great and for the most part her design came to life. The staff that worked at our house was very professional never made a move with out asking first and were extremely clean.

Ellen Lanio
23:08 23 Feb 21
We recently remodeled our kitchen and are very pleased we chose Kitchens By Countryside. Heather designed our new kitchen with our wants and needs in mind, taking utmost care to stay within our budget while using the highest quality materials. Josh and crew were very professional. They want you to love the end result and it is not done until you are happy. We are happy to recommend Kitchens By Countryside!

Joanne Schutz
02:20 15 Feb 21
I had my kitchen remodeled by Kitchens by Countryside. They cleaned up the work area every day. The workmanship was excellent!They really cared about the work they did. The new kitchen came out better than I could ever imagined! Diana designed it and was so patient with us. Josh overseen the project. Thank you for your attention to detail. It made me feel at ease. Just BEAUTIFUL work!

John Cordone
21:27 06 Feb 21
I worked with Julia on my kitchen remodel a couple years ago and was really happy with the design and outcome of the remodel! I definitely will look forward to working with her again when i am ready to redo my master bath.

Sue Markle
19:17 22 Dec 20
We had Kitchens by Countryside install a brand new kitchen for us From the very beginning they listened to what I wanted and absolutely gave us a gorgeous kitchen We had prices kitchens at many other places in Rochester but without a doubt Kitchens by Countryside was $15,000 cheaper than anyone elseThey also allowed to do some work ourselves. Heather was our sales/designer and was very responsive to all our calls and requestsThe cabinets came in when scheduled and installation was done following dayGreat service quality and customer service
Proudly Serving Rochester, NY