Kitchen Remodeling in Rochester, NY
At Kitchens by Countryside, we strive to help our customers attain the kitchens and bathrooms of their dreams. We offer professional, seamless design and installation processes for beautiful results in homes throughout Rochester, NY and the surrounding areas. Visit our showroom in Spencerport, NY to see what we can do for your home.
Ready to do a full kitchen remodel? Get started with a Free Design Consultation with one of our expert designers. Invest in your home with 100% confidence.
Find out what makes Kitchens by Countryside different — our team of talented designers, ready to help you realize your kitchen and bath dreams.
Connect with us on Facebook and Instagram. And be sure to subscribe to our newsletter for exclusive offers and special promotions not found anywhere else.
Where Your Family Gathers
The kitchen is the real heart of your home. Studies have shown that families spend over six times as many hours in the kitchen as they spend in the living room! We cook, eat, entertain, and spend time together in the kitchen.
When you're in your kitchen, are you comfortable? Do you have enough space? Can you get to everything easily and efficiently? If not, it may be time for kitchen remodeling.
As designers, and homeowners, we understand how frustrating it can be when your kitchen isn't meeting your needs. We'd love the opportunity to take your current space and redesign it into a beautiful, functional kitchen for your family to enjoy.
Kitchen remodeling is our specialty. Stop by our showroom today to talk to a designer, see samples, and discuss your kitchen remodel. We look forward to working with you!
What sets us apart from other remodeling companies is our kitchen design service. When you choose Kitchens by Countryside, a highly-qualified, creative designer works with you to make sure your remodel not only looks beautiful but is functional as well. Our designers meet with you to discuss your preferences and help you create a space that is attractive, welcoming, and practical. You'll even get a detailed preview with our 3D rendering of your kitchen design! Take a look at our current Featured Designer to see how we work.
Plan a visit to our gorgeous showroom in Spencerport. Meet our kitchen and bath designers in person, and take a look at samples of cabinets, countertops, flooring, and more. You'll find lots of new ideas and inspiration!
Free Design Consultation!
Why wait when you can start your kitchen or bath remodeling job today? Stop into our showroom and speak to a designer, or contact us and begin remodeling process right over the phone!
Flexible Financing
We offer customizable financing options to fit your budgetary needs. Just ask us what financing plans we have available for you.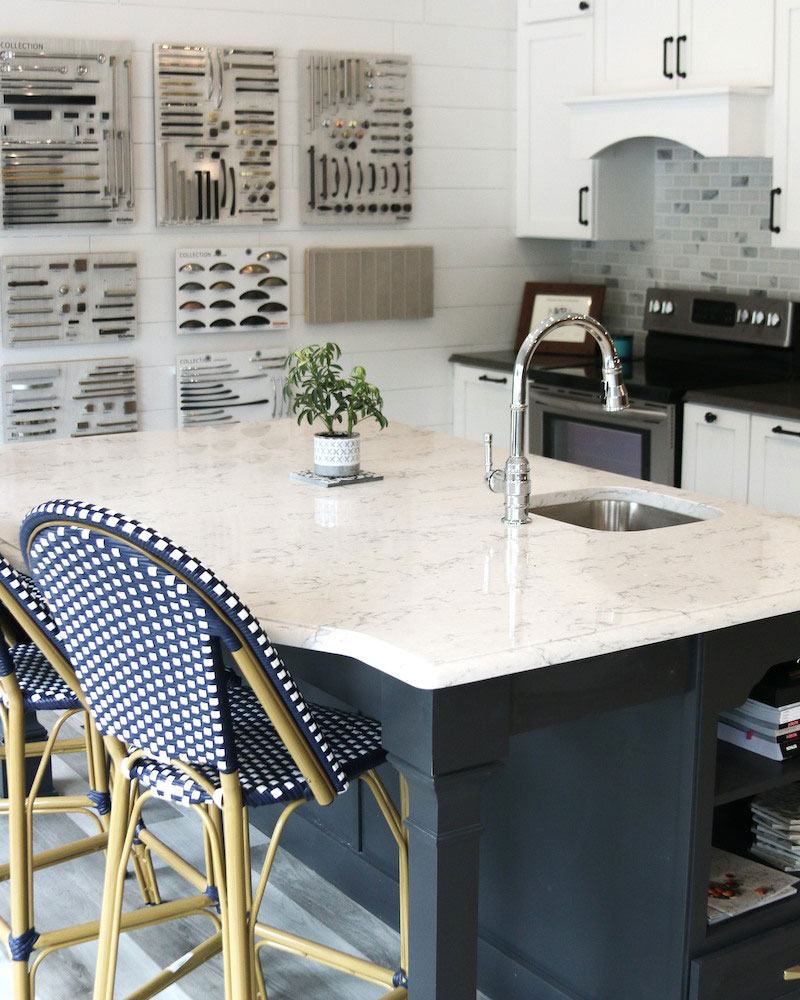 Kind Words From Our Clients
"Sierra and the Countryside team did an amazing job remodeling my father-in-law's bathroom. It was a tough little space, complete with a chimney (from a non-working fireplace). Sierra completely reconfigured the space and made it BIGGER and more FUNCTIONAL than anyone imagined! The installers worked quickly, did a great job, and were flexible with my FIL's time constraints. He is very pleased with how the bathroom came out as well… he shows it off to anyone that comes over! I will definitely be using them for any future bath/kitchen remodels!"
– Daphne N. –
"You don't promise what you can't deliver, and everything you do promise is done well."
– Lin P. –
"Tim and I finally took the big plunge and updated our 1950's kitchen. We decided on Kitchens by Countryside and have been very happy with the results. Diana was able to design and show us our kitchen in 3D to help us visualize what we needed and also make it all fit into a tight space. We had a load bearing wall removed and we can't believe the difference. Our contractor, Joshua, kept on top of all the trades and was always responsive to any concerns. Remodeling a kitchen is a huge expense — they worked with us to keep our costs down and still look upscale. I am only sorry we waited so long to do this."
– Laurie M. –
Proudly Serving Rochester, NY
For information about exterior services, such as siding and roofing, visit our sister company, Oaks Construction.