Are you gearing up for a kitchen remodeling adventure? If you have children or pets, we understand the importance of finding flooring options that can withstand the spills, splashes, and messes that come with a lively family life. Let's face it – life can get messy, especially during the summertime when outdoor adventures and poolside splashes make their way indoors. That said, there's no need to sacrifice style for durability with so many amazing options at your fingertips. Transform your kitchen into a functional and beautiful kitchen with help from our guide for the best flooring options for your lifestyle.
Embracing the Summertime Splash Zone
With the warm weather beckoning us outdoors, it's only natural for our families to spend more time enjoying the sunshine, whether by the pool or engaging in other outdoor activities. But what happens when the fun transitions indoors? Fear not, as we present you with a range of flooring solutions that can withstand the summertime splash zone and keep your kitchen looking fabulous.
Luxury Vinyl Flooring – A Versatile Champion
When it comes to waterproof flooring, luxury vinyl emerges as a top contender. Not only does it offer excellent resistance to water and spills, but it also provides a remarkable balance of style, durability, and affordability. With a wide array of designs and patterns available, you can achieve the aesthetic you desire without compromising on functionality.
Tile Flooring – Classic Elegance Meets Practicality
For those seeking timeless beauty and exceptional water resistance, tile flooring is a fantastic option. With advancements in technology, porcelain and ceramic tiles now come in various sizes, colors, and textures, allowing you to customize your kitchen to your heart's desire. Plus, their easy-to-clean nature makes them ideal for families with kids and pets.
Unleash the Power of Childproof Flooring
Every parent or grandparent knows that children are masters of mess-making. From accidental spills during cooking experiments to the unrelenting excitement of playtime, our floors often bear the brunt of these adventures. Fear not, for we have just the right flooring options to keep up with your little ones.
Laminate Flooring – Style Meets Sturdiness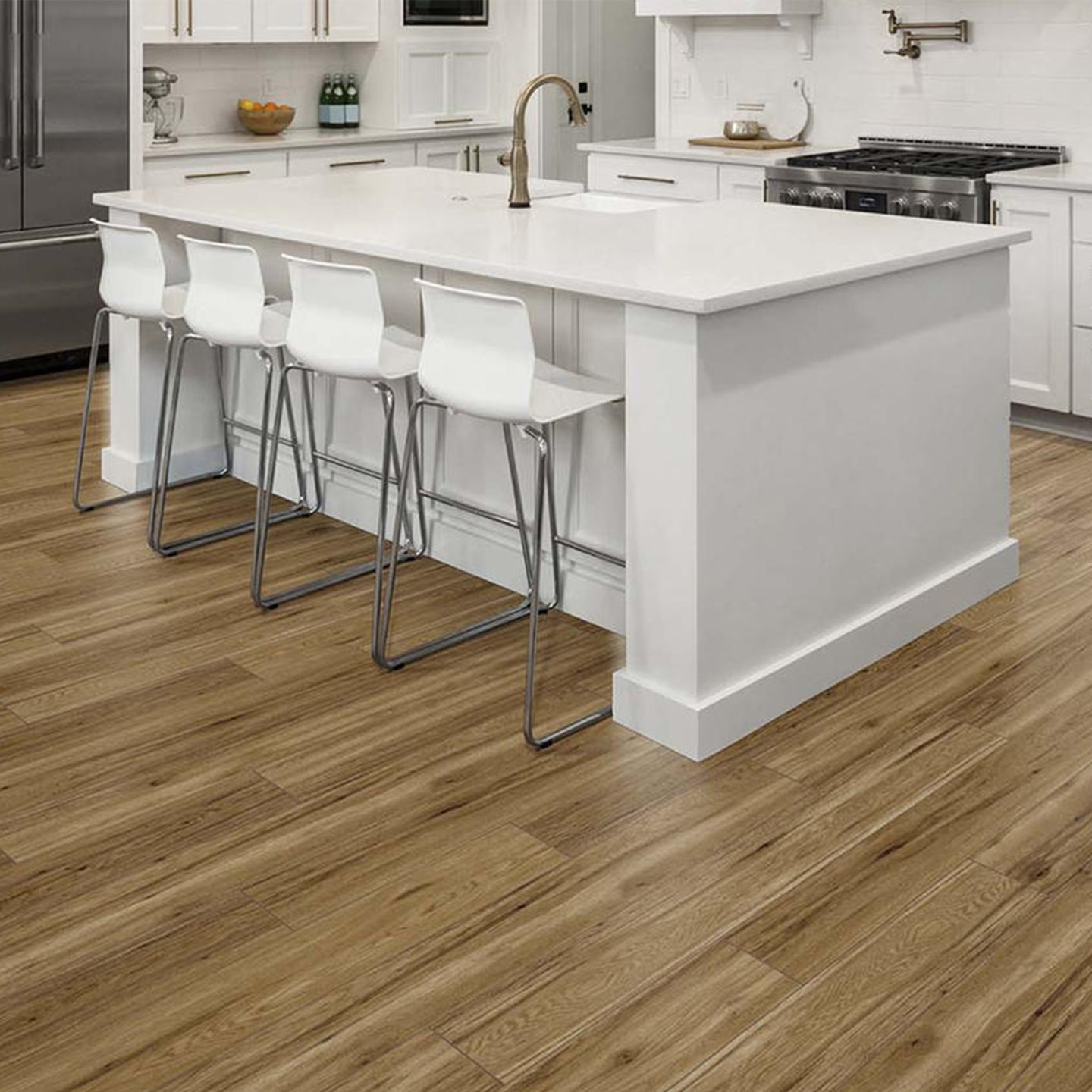 Laminate flooring offers an ideal blend of style and durability for families. With its scratch-resistant surface and ability to withstand heavy foot traffic, laminate is a reliable choice for homeowners with active children. Additionally, many laminate options today are designed with moisture-resistant properties, making them even more suitable for kitchens.
Engineered Hardwood – Beauty and Strength in Harmony
Westridge Wire-Brushed Engineered Hardwood in the color Amaro European Oak
If you desire the warmth and beauty of natural hardwood flooring but worry about its vulnerability to moisture and scratches, engineered hardwood is here to save the day. Crafted with multiple layers, including a top veneer of real hardwood, engineered hardwood offers enhanced resistance to water and wear, making it an excellent choice for families seeking an elegant, child-friendly option.
Pet-Proof Flooring: A Haven for Your Furry Friends
Our beloved pets bring joy and companionship, but their paws and claws can leave a mark on our floors. When it comes to pet-proofing your kitchen, consider these resilient flooring options that can withstand the energetic romps and occasional accidents.
Luxury Vinyl Plank – Practicality and Pet-Friendly Design
Luxury vinyl plank (LVP) flooring strikes again, showcasing its versatility as a pet-friendly solution. With its water-resistant properties and a top wear layer designed to resist scratches, LVP is an ideal choice for homeowners with furry companions. Additionally, LVP provides excellent traction for pets to move around comfortably, reducing the risk of slips and falls.
Tile with Grout Sealing – Durability and Easy Cleanup
Tiles, especially when sealed with grout, offer exceptional durability and resistance to pet-related mishaps. The sealed grout acts as an extra layer of protection against moisture penetration, making cleanup a breeze. Plus, tiles come in various textures, providing pets with better traction and stability as they scamper through the kitchen.
The Intersection of Style and Functionality
Now that we've explored the best waterproof, childproof, and pet-proof flooring options, it's time to find the perfect balance between style and functionality. After all, your kitchen is not just a practical space but also a reflection of your personal taste and design preferences.
Cork Flooring – Sustainable and Comfortable
Waterproof Cork Flooring by Hydrocork in the color Arcadian Arctic Pine
Cork flooring has gained popularity in recent years for its eco-friendly attributes and comfortable underfoot feel. It offers natural resistance to water, making it suitable for kitchen environments. Cork also absorbs sound, reducing the impact of noise caused by active households. With its unique patterns and warm tones, cork flooring adds a touch of natural beauty to your kitchen while serving as a reliable option for families.
Waterproof Hardwood – Elegance Redefined
Hickory Engineered Hardwood by Hydropel in the color Natural
If you crave the timeless elegance of hardwood flooring but worry about water damage, fret no more. Waterproof hardwood, engineered with innovative technologies, provides the best of both worlds. Its advanced construction and protective layers make it impervious to moisture, ensuring that your kitchen remains stunning even during the messiest moments.
Taking the first step towards creating a functional and beautiful kitchen that can withstand the demands of family life can be a challenge. By considering the best waterproof, childproof, and pet-proof flooring options, you can have peace of mind and focus on what truly matters: making cherished memories with your loved ones. Whatever option you choose, rest assured that these solutions will transform your kitchen into a haven of style and durability. Embrace the summertime splash zone, embrace the joys of parenting or grandparenting, and let your floors be the foundation for a lifetime of love, laughter, and happy messes.
If you're ready to get started on your kitchen renovation, give Kitchens by Oaks a call to schedule your free design consultation today!
Ready for an upgrade to your kitchen? Contact Kitchens By Oaks at 585.349.8100 to schedule your free design consultation today!